Hundreds of Phones Dead, Thousands Injured following Music Festival Storms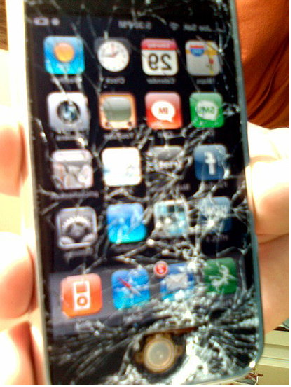 Chicago — While Torrential rain did not bother the bands at the Pitchfork Music Festival, the heavy downfall wreaked havoc on the festivalgoers' cell phones. By the end of the three day festival, 2,144 cell phones were injured, while at least 100 phones died. 
Injuries ranged from minor scratches and chipped paint to inconsistent touch screens, wonky headphone jacks, and abnormally low call volumes. 
The majority of the audience took precautionary actions as soon as it began sprinkling, while others, to wrapped up in the music, left their mobile devices barely, if at all, protected.
"At first I thought it was just a sweaty tall guy or something, but then the rain got worse, so I thought 'nobody sweats that much' and ran for the trees by the Green Stage. Thankfully, I got there before anything serious could happen to my phone " DePaul University Freshman Colleen Fitzgerald said. 
Other phones weren't so lucky. 
An iPhone 4S owned by barista Jerome Phelps, suffered massive internal injuries during A$AP Rocky's early Friday set, but the final death blow arrived when Alexis Krauss of Sleigh Bells poured water on the crowd. The iPhone was 6.5 months old, and is survived by an iPad Classic 32 GB and a MacBook Pro. 
Following the festival, Police investigations into Union Park resulted in the recovery over 40 unidentified phones. The phones were taken back to the Chicago Police, where the phones were tested before disposal. 
One fan, 24-year-old graphic designer Tess Neil was glad the rain broke her phone. 
"Honestly, I was tired of being made fun of for still having a BlackBerry. I can finally be relevant now," Ms. Neil said. 
Dirty Cricket Poors Descend Upon iPhone And Ruin it for EVERYONE
First they came for the BlackBerries, and I didn't speak out because I had moved on to touchscreen phones.
Then they came for the Android phones, and I didn't speak out because I wanted the most updated operated system
Then they came for Instagram, and I didn't speak out because I was there first.
Then they came for the iPhone, and there was no relevant smartphone brand left to place a false sense of superiority upon. 
The dirty poors have long been advancing upon the iPhone. Now the Cricket iPhone has truly ruined it for all of the upstanding contract iPhone customers. 
Previous coverage: 
New York Times Writes Another Trend Piece About Something That Isn't a Real Trend
The New York Times is one of the best written, well-respected, and remaining of the physical content farms from the pre-internet era. While most of their work is great, they do have the bad habit of writing "trend pieces" and things that aren't actually trends at all. This time, young professionals who do not own smart phones. 
Though my phone elicits stares in the soigné precincts of New York, I'm just one member of a small but hardy contingent (a convoy, if you will) of smartphone holdouts, people who seem like the ideal iPhone owner (under 40, urban, professional) but shun it and its app-friendly cousins for a low-tech "dumbphone."
 See, he acknowledges that he has the means for a smartphone, but chooses against it for what a low-tech "feature phone."
 Fifty-eight percent of 25-to-34-year-olds (my own demographic) own smartphones. And in certain social strata, to not own one is the mark of an outsider.
In particular, an outsider who really wants attention badly so people will remark on how "unique" he or she is. 
As Kristin DiPasquo, 33, a second-grade teacher in Philadelphia who dislikes the distractibility and expense of smartphones, said: "A group of four of us was hanging out, and none of us had a smartphone. It was definitely like, 'Wow, look at us!' "
It's good that she was honest about doing it for the attention. This group of four Luddites would be the people in the 90's who proudly proclaim that they don't have TV or cable because they "cost money"
As for his personal life, he said he doesn't require "an application to tell me where in the city I am or what restaurants are near me."
 "I don't need a car, I have a horse." - This guy in 1920
"I don't need the internet, I have encyclopedias." - This guy in 1996
"I don't need a light bulb, I have fire." - This guy in 1910
The corporate-countercultural purveyor Urban Outfitters sells the '80s Cell Phone Case($20), a 7.5-by-2.5-inch plastic chassis that chunkily protects fragile iPhones.
Every New York Times trend piece requires at least one implicit or explicit references to "effing hipsters"
Like Dr. Epstein, he holds particular scorn for Angry Birds, which he played once on his fiancée's phone. "I felt like I lost a half-hour of my life," Mr. Harig said. "I said, 'Never again, just take this away from me.' "
 Because every phone requires playing Angry Birds for 30 minutes on end. I will assume that since he claims Angry Birds is a waste of time, that he's never played video games, surfed the web leisurely, or done any non-productive, potentially enjoyable activity ever.