Santorum Opposes Choosy Moms' Right To Choose Jiff
Grand Rapids, Mich — Following his second place finish in the Michigan Republican Primary, former Pennsylvania Senator Rick Santorum held a press conference to outline in strategy for Super Tuesday. While Santorum stressed his conservative credentials and Christian faith, he also unveiled a new talking point.
"I'm going to talk about something that no other President has. For too long, choosy American Moms have degraded America's moral fiber by picking an ungodly form of sandwich spread," Santorum said.
Pro-Choosy Moms' lobbying group, SnackPAC, has yet to issue a statement, but many political analysts believe that Santorum's stance will hurt him on Tuesday
"I didn't think his views of banning contraception, saying college is for snobs, and not wanting to help black people were problematic, but this, this is just out of line," conservative pundit Michelle Malkin said. 
Florida GOP Electorate PANS Gingrich. Is this worse than Critics Panning Born to Die?
Tuesday, January 31st will go down as one of the great Diss Days of internet critisism. Prior to the actual voting, Newt Gingrich vowed not to leave the race, choosing instead to drag out the GOP race all the way to the convention because he's more interested in winning than Obama losing. Anyway, the voters of Florida dissed Gingrich by voting for Romney in droves.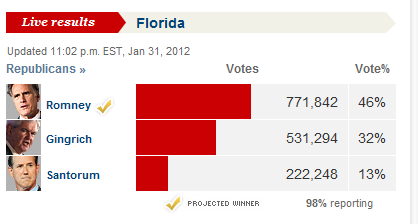 The bigger question here, is who the bigger Dissers were: The Florida GOP Electorate or the music reviewers of the Major label debut by controversial human meme Lana Del Rey. 
Gingrich and Del Rey are basically the same person. Both were last minute possible solutions thought to end droughts (the weak GOP field and the meme drought respectively). Both were built up by pundits/music bloggers as the hope for GOP/indie music, then torn down to pieces by those same pundits/bloggers after HUGE mistakes (Moon Base/SNL)
Is Newt Gingrich #BornToWin , #BornToLose, or #BornToBuildAMoonBaseByHisSecondTerm
American Electorate Chooses to Sit This Election Out
USA — In a shocking announcement immediately following the South Carolina Primary, the American electorate has chosen to drop out of the GOP nomination race, citing exhaustion and low voter enthusiasm. 
The American electorate, whose role is typically to vote for candidates during elections, said that the particular weak field of Republican candidates don't offer enough of an incentive to leave their homes to vote. 
"I've been a lifelong Republican voter, but this year is too much. They added in SuperPACs. I don't even know what a regular PAC is."
Reactions among the GOP candidates have been mixed. Rick Santorum, who won the Iowa primary weeks after it occurred, sees it as a boon to his campaign. 
"Now, only the craziest people will vote, a key demographic of my base."
Mitt Romney's campaign issued a slightly less optimistic statement Saturday night. 
"Look, everyone wants a candidate that will inspire Americans to be their best. You think we don't want that guy or gal to run too? But he or she isn't, so vote Mitt Romney for America. 
Gingrich Steals South Carolina; Should Romney Give Up?
People made a huge deal out of the South Carolina primary because it was seen as the last chance for conservatives to 'defeat' Romney/pick a candidate who stands no chance in the general election against Obama. 
Well it seems they have won, and by they, I mean people who use they as a means of dehumanizing groups they would not like to support through social benefits and full rights. What a night!
This is bad news for Romney, who planned to coast to the GOP nomination on a wave of voter apathy. 
This is even worse news for the group of Evangelicals who gathered in Texas last weekend to pick a candidate to support. It seems the wealthy Evangelical bump could not even push Santorum over the top. 
If Romney was smart, he would quit now. Sure, he won't get a Fox News TV show like Herman Cain eventually will, but at least he is still young enough to pursue his true passion, catching and gutting corporations for maximum profit. 
Ricks Perry Fails Presidential Bid ; Colbert Scare Count Goes to 2
At 11 AM EST, Rick Perry of Texas will announce that he was scared out of the race for the GOP nomination following hero Stephen Colbert's announcement of an exploratory committee to run for President of South Carolina. 
Perry failed to stay competitive in primaries, but, more importantly, failed to garner the support of a cabal of wealthy Christian conservatives who met last weekend to pick a non-Mitt Romney candidate. 
This comes on the heels of Jon Huntsman dropping out after he realized nobody knew he was in the race. 
MORE DEVELOPING SOON
Prominent GOP Donors Urge News Corp to Run for President
New York - A group of prominent Republican donors held a press conference on Monday urging News Corporation to take advantage of the weak field of declared candidates. 
This announcement comes a day after Gov.Rick Perry, the frontrunner for the nomination, faced allegations of racism following the discovery of a rock on Perry's property with "niggerhead" written on it.
"Seriously, Perry, cover your tracks. This isn't Texas, where you might have been able to get out of that," an anonymous donor said. 
An Early Wallstreet Journal/NBC News poll released this evening shows News Corp with a fifty point lead over the nearest candidate, former Massachusetts Governor Mitt Romney. 
While it lacks a physical body, soul, and the capacity to love, News Corp is able to run as a result of the controversial Citizens United Supreme Court case.  
When asked about News Corp's commanding lead, Romney replied that he no longer believes that "corporations are people too."
In a prepared statement, News Corp said that it is flattered by the attention, but would rather not lose power and influence by becoming President.