UK Auction Claims To Be Selling a Vial of Reagan's Blood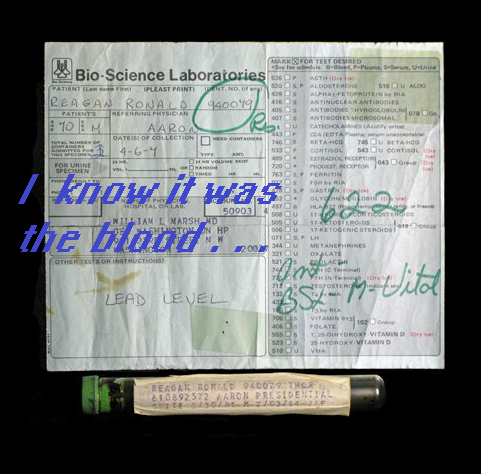 In addition to being the first black president, Ronald Reagan is truly one of the most important presidents of the 20th century. It is necessary for nearly every national Republican candidate to claim how much they agree with the "idea of Reagan" even if it doesn't always match the actual president. The exception is if you were pre-(economic) crisis Mitt Romney, who claimed to be an independent during Reagan's presidency. 
Here is information from the article:
A Channel Islands auction house says it's selling a vial that allegedly contains blood residue from Ronald Reagan — a move denounced Tuesday by the late U.S. president's family and his foundation.

The vial being auctioned online was used by the laboratory that tested Reagan's blood when he was hospitalized after a 1981 assassination attempt in Washington, the PFCAuctions house said.
The Reagan family denies that this blood truly belonged to Ronald, but it makes sense, considering the many rumors of its unique abilities. It is the conservative equivalent of the Arc of the Covenant. 
While the special properties of Reagan's blood are unknown, I have compiled a list of possible effects:
1. Revives the economy ten years and two presidents later.
2. Allows Michele Bachmann to reach Super Saijain level 2.
3. Removes grape juice from carpet
4. Will burn if sprinkled on a welfare queen, provided she is outside of her Cadillac. 
5. Secret ingredient in Coca-Cola
6. Quenches Cheney's thirst for at least 7 hours
7. Turns Mitt Romney into a "real boy"