Happy 11th Birthday, Afghanistan War!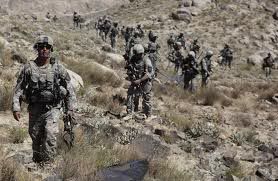 Sunday marked the 11th anniversary of the beginning of the war against Afghanistan. Oh, we were so young then. We never would have expected it turning into our nation's longest war.
How did you celebrate the 11th anniversary?
Did  you …
Dance on bin-Laden's watery grave?
start a new "Support our troops" minivan magnet ribbon small business on Etsy?
Ponder the consequences of long-term military intervention?
Listen to "Handlebars" by Flobots for old times' sake?
Make a sandwich?
Make a sandwich for your S/O?
Have a "Code Pink" reunion picnic and BBQ?
watch all of the Michael Moore movies while playing the Bacon eating game? (eat every time you think someone in the movie wants bacon just to spite them)
Go to brunch with DA GURLS xOxO?
Considered dusting off that old "Mission Accomplished" banner?
Ate Freedom Fries for a day? (made from free-range potatoes)
Forgot because Romney made a gaffe about Big Bird and now our collective shit is lost?
RELATED