Clinton, Gore, and Carville to Star in Remake of "The Hangover"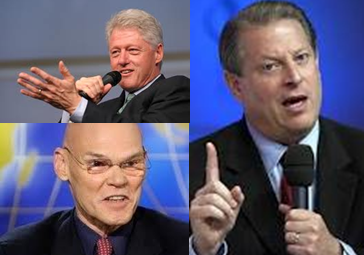 Hollywood — Following former President Bill Clinton's well-received Democratic National Convention speech, Warner Brothers has announced The Hanging Chad, a spiritual remake of The Hangover, which will star Vice-President Al Gore and Democratic strategist James Carville along with Clinton. 
Clinton, who was rumored to have a cameo in The Hangover 2, said he was excited to return to the limelight.
The Hanging Chad takes place shortly after the 2000 Presidential election, with Clinton trying to cheer up his Vice-President but taking him on a vacation to Bermuda, but the night before their flight leaves, Carville invites Clinton and Gore to try some of his  homemade bourbon.
"So Many hijinks will ensue. We actually had to cut out hijinks because there were so many hijinks!" WB Junior Executive Colin Silverman said.
Filming of The Hanging Chad has not yet wrapped, but is expected to be released in time for Summer 2013 .
"This film will expose sides of these well-known politicos that the public at large are unaware of," Silverman said.
Examples include Gore selling his Nobel Prize to pay a prostitute, Bill Clinton dueling the devil in a saxophone contest, and 20 minutes of Carville's unwavering reptilian glare directly into the camera.
RELATED