SCANDAL:Scott Walker Joins a Gang Because Serena Williams Crip Walked
Tennis superstar Serena Williams ignited a controversy last weekend when she crip walked after a dominating performance against Maria Sharapova won her a gold medal.
As you may know, crip walking is a dangerous gang dance only performed by gang members, so you can see why this is destroying America a little bit. 
Unfortunately, impressionable teens and tweens are not the only ones who have fallen prey to Serena's glorification of gang culture on the national stage.
Yesterday, reporters snapped a photo of Wisconsin Gov. Scott Walker wearing a gang dew rag bandana.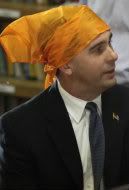 It is dangerous for a governor of a state to be in a gang, especially during these tough economic times. I highly doubt Serena Williams understood the repercussions of her actions when she broadcast gang signs all across the globe. Shame on her.
1 Notes/ Hide
santhonythomas likes this
youngmanyellsatcloud posted this