Romney Campaign: "Barack Obama Doesn't Care About White People"
Thank you for clicking on my inflammatory headline. Now back to your regularly scheduled blog post.
As the 2012 election heats up, President Obama and his republican rival, Mitt Romney, are pulling out all the stops to win. Obama has sung for votes twice ,and even starred in a major hollywood blockbuster, while Romney has courted the youth vote with a TRL appearance. Now, the Romney Campaign upped the ante with a new set of remarks in advance of Romney's European Fundraising tour.
In remarks that may prompt accusations of racial insensitivity, one suggested that Mr Romney was better placed to understand the depth of ties between the two countries than Mr Obama, whose father was from Africa.

"We are part of an Anglo-Saxon heritage, and he feels that the special relationship is special," the adviser said of Mr Romney, adding: "The White House didn't fully appreciate the shared history we have".
It is very clear that Barack Obama doesn't appreciate his Anglo-Saxon heritge. Just look at these damning photos.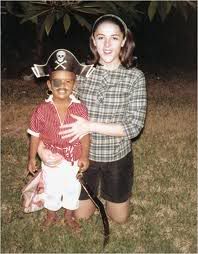 According to a special investigation, these pictures are of a young President Obama, hating his mother, Ann Dunham. I disagree, however, because Obama is clearly dark, and therefore is 100 percent pure black. 
Unless .  . . 
Perhaps, and i may be jumping to conclusions here, but maybe, just maybe, Barack Obama, is secretly American. Yes, I know this violates the conventional wisdom of him being a marxist communist Keynesian Kenyan, but I have proof!
A) Numerous pictures of a white woman, Ann Dunham, who was an American from Kansas. 
2) More photographic evidence of the President with his white grandparents.
3) His voice! He's much too well-spoken not to understand Anglo-Saxons, right, RIGHT?
The Obama campaign is hard at work covering up his secret WASP-ness for fear it could hurt the President this fall. Only time will tell if the Romney campaign chooses to keep hammering their attack on Obama's lack of white anglo-saxon-ness.  
So either Barack Obama secretly doesn't understand/care about white people, or he is secretly a white American, or, perhaps most sinister of all, the Romney Campaign is trying to exploit racial fears among the electorate in a classless, shrewd play for the White Anglo-Saxon House.