It is Time for the Animorphs Movie
Film versions of young adult novels are one of the few remaining reliable cash cows for Hollywood. While some (Harry Potter, Twilight, The Hunger Games) have been more successful than others (The Golden Compass, Chronicles of Narnia), I am certain that an Animorphs film will land squarely in the former group. 
SPOILERS AHEAD BEWARE
Animorphs has just an interesting enough hook for tweenage boys (alien war, tigers) while still containing emotional and relationship stakes that fuel tweenage girls' love of THG and Twilight. Katniss thinks she has it bad because she is forced to marry someone she doesn't love, but that's nothing compared to your boyfriend getting stuck in the body of a red-tailed hawk.  
Harry Potter continues to grieve the loss of his mother, but Marco of the Animorphs has to deal with his mom's mind being taken over by an alien slug, faking her death, then finding out that the alien slug in your mom's body is trying to conquer Earth. Marco's emotional scar trumps Harry's lightning bolt any day.  
The series puts a big emphasis on combat, with each of the Animorphs having a "battle morph" used to fight Hork-Bajir (giant lizard-like creatures with blades on their arms and legs), Taxxons (giant worms with an insatiable hunger and a mouth lined with sharp teeth), and other alien races. 
The series, which spanned 54 main books, along with other side-stories, has a wealth of material to choose from. The Ellimist-Crayak battle, David (the 7th and eventually traitorous Animorph), and the eventual final climatic battle aboard Visser Three's Blade Ship. 
Scholastic is also reprinting the series for a new, young audience with a less embarrassing covers.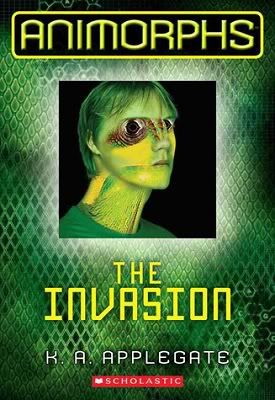 They were cool to me in elementary and middle school, but not so much anymore, likely because I am legally an adult.
Some might point to the short Animorphs TV series as reason to dismiss a film adaptation, but the series was never given the budget to truly succeed. With how far special effects have improved in the past fifteen years, the sci-fi elements of Animorphs could easily be brought to life. 
More importantly, I would like an Animorphs movie because I am a 20-something with a near-debilitating nostalgia problem, and seeing Jake, Cassie, Marco, Rachel, Tobias, and Ax on the big screen would help me escape the nostalgia vortex, if only for a short while. 
12 Notes/ Hide
dantheman1689 reblogged this from youngmanyellsatcloud
dantheman1689 likes this
im-happening-now reblogged this from youngmanyellsatcloud
consios likes this
gr33kw4t3rm3l0n reblogged this from youngmanyellsatcloud
between-2-lungs likes this
gr33kw4t3rm3l0n likes this
raemcg likes this
wryan likes this
intotheshire likes this
oksoamy reblogged this from youngmanyellsatcloud
mistsonfire likes this
youngmanyellsatcloud posted this